Introducing "Your Four Steps to Success" e-course!
I hope all is well with you. Things are really taking off here, as I've been a busy bee - putting together the finishing touches to the in person, tele, and e-course material for "Your Four Steps to Success" program!
I'm happy to say that It is all finally up and running!
Wooo Hooo!
The e-course contains all of the juicy material that you'd get while working with me one on one, but at a fraction of the cost! By now, you may be asking yourself:
What is
"Your Four Steps to Success"?
Your four steps to success is a program designed to help you create a positive outcome in life, by helping you discover and discard the blocks that hinder your progress. Once these blocks are removed, The four steps help you to create a new way of thinking and ways to shift your energy towards success.
The program is comprised of four simple steps, that when used along with the recommended tools of self-hypnosis, guided meditations, energy work and vibration therapies, can create profound results!


The e-course is an easy and affordable way to make success an outcome in your life, instead of an option!
Purchase all of the course material now for only $70.00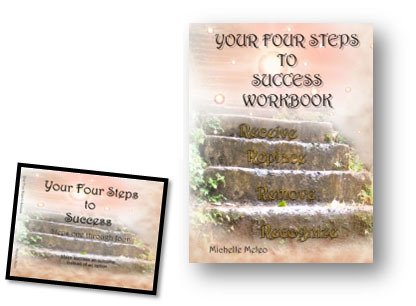 Introducing - Your Four Steps to Success E Course Program:
Michelle understands today's fast paced lifestyle and that it is not always easy to keep a strict schedule. For those of you who prefer to progress at a pace that is comfortable to you, and from the convenience of home, "Your Four Steps to Success" is now as an
e course
!
Your Four Steps to Success, weeks one - four mp3 hypnosis downloads
Four hours of instructional video to guide you (
sent weekly to your inbox)
"Your Four Steps to Success" Workbook PDF download
lifetime membership to the online classroom
and access to the success discussion group!
*The workbook and mp3 download's are available immediately! You will receive a welcome email within 24 hours of your purchase along with step one email. You will receive three more emails on a weekly basis after that!
How this e course can help you to succeed:
Following a one month program is, by far, the most effective way to fast track your way to personal Success!
Whether you'd like to create success in your
Personal Life, Career, or Health
, the first step is to have a plan or program in place. Michelle's personalized success e course, follows her four basic steps to creating a successful outcome. As you work through your personal success program, you'll begin to release old beliefs and create a new foundation that manifests results!
The
Four Steps to Success:
Step 1: Recognize - Personal Assessment

Step 2: Remove - Let go of old beliefs & emotional attachments

Step 3: Replace - Create a new, success driven, belief system

Step 4: Receive - Give yourself permission to be open to receive success
What others are saying about the program:
My name is Fiona Finn and I am pleased to recommend the "Your Four Steps to Success Work book and program." I recently finished the entire program with Michelle Meleo, an intuitive hypnotherapist. Trust me I was not confident that using hypnosis could really help me let alone achieve my goals. But once you focus on a set goal you will break down the program into four easy steps. 1. Recognize (a complete personal assessment), 2. Remove (letting go of what it blocking you from attaining your goal), 3. Replace (shifting your thoughts to line up with your desired outcome), and 4. Receive (finally getting out of your own way). Finally I was able to focus entirely on myself with the aid of "YOUR FOUR STEPS TO SUCCESS WORKBOOK" and one on one guidance from Michelle. I have never felt so fresh and alert and ready to achieve my goals! Don't delay taking the first step toward changing your life to the one you have been day dreaming about! Order today, you won't regret it!
Are you ready to write your success story?
Sign up today and watch your success create itself easily & effortlessly!
I look forward to walking the steps alongside you!
Be well,
Michelle
Michelle is the founder of Mind Trip Productions, an intuitive hypnotherapist, and inspirational public speaker. She brings more than 10 years experience,
helping others to realize the power of their own worth and the freedom that releasing old patterns has to offer, by helping them change their own thoughts on a subconscious level.